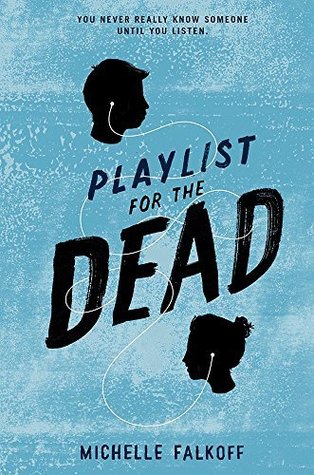 Series: stand-alone
Genre: YA, death, romance, mystery, contemporary
Release date: January 29, 2015
A moving, poignant, compelling YA debut, as a 15-year-old boy struggles to understand his best friend's suicide through the list of songs he leaves behind.
Here's what Sam knows: There was a party. There was a fight. The next morning, his best friend, Hayden, was dead. And all he left Sam was a playlist of songs, and a suicide note: For Sam - listen and you'll understand.
As he listens to song after song, Sam tries to face up to what happened the night Hayden killed himself. But it's only by taking out his earbuds and opening his eyes to the people around him that he will finally be able to piece together his best friend's story. And maybe have a chance to change his own.
Part mystery, part love story, and part coming-of-age tale in the vein of Stephen Chbosky's The Perks of Being a Wallflower, Playlist for the Deadis an honest and gut-wrenching first novel about loss, rage, what it feels like to outgrow a friendship that's always defined you - and the struggle to redefine yourself.
My rating:
My review: ★★★

Sam Goldsmith finds his best friend's, Hayden's, body and a suicide note saying "Listen and you'll understand…" I expected the story to be about the whole playlist and how it connected all the dots and everything… but it was a little disappointing. Yes, Sam listened to the playlist through the whole book, but it wasn't incorporated in the whole story, which was a pity.

This brings me to the storyline of this book. It was enjoyable, but again, not very extraordinary like I expected. This book didn't leave an impact on me. The "mysteries" in the book … well were not mysterious. It was very predictable. It's a shame, because the writing itself was pretty good. Sam's thoughts were displayed very well and clear. I think younger readers would be able to relate very easily.

To be honest, I'm still a bit confused about my feelings towards this book. Some things had way more potential. For example Hayden. I wish there were some flashbacks in his point of view. I think that would have brought more appreciation.

So overall, it was an "okay" read. I think my expectations were a bit too high.
I would recommend this to younger readers and people who liked Thirteen Reasons Why (by Jay Asher).