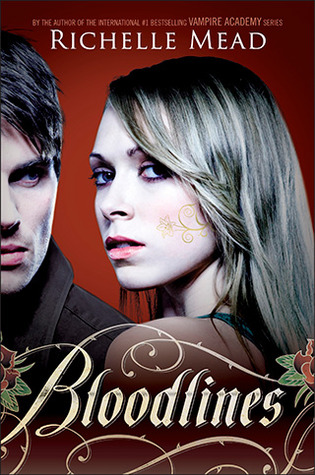 Genre: YA, romance, vampires
Series: Bloodlines #1 (Vampire Academy spin-off series)
Release date: August 23, 2011
Sydney's blood is special. That's because she's an alchemist - one of a group of humans who dabble in magic and serve to bridge the worlds of humans and vampires. They protect vampire secrets - and human lives. But the last encounter Sydney had with vampires got her in deep trouble with the other alchemists. And now with her allegiences in question, her future is on the line.
When Sydney is torn from her bed in the middle of the night, at first she thinks she's still being punished for her complicated alliance with dhampir Rose Hathaway. But what unfolds is far worse. Jill Dragomir - the sister of Moroi Queen Lissa Dragomir - is in mortal danger, and the Moroi must send her into hiding. To avoid a civil war, Sydney is called upon to act as Jill's guardian and protector, posing as her roommate in the unlikeliest of places: a human boarding school in Palm Springs, California. The last thing Sydney wants is to be accused of sympathizing with vampires. And now she has to live with one.
The Moroi court believe Jill and Sydney will be safe at Amberwood Prep, but threats, distractions, and forbidden romance lurk both outside - and within - the school grounds. Now that they're in hiding, the drama is only just beginning.
My review: ★★★★+0.5
"I decided the Alchemists needed an entire department devoted to handling Adrian Ivashkov."
First of all all: Yvonne, THANK YOU FOR MAKING ME OBSESSED WITH ADRIAN!!!!!!!!!
She's been talking about this series from the moment I finished Vampire Academy. But for some reason it took me a while (as in, almost a year) before I actually started reading this series. I'm a huge fan of Rose and Dimitri and I don't know… I wasn't actually excited about the fact that this series is about Sydney. But oh boy. I did not expect this to be so good!
Sydney is such an interesting character. She has her own beliefs and she's determinate in everything she does, no matter what. Her perspective in the world Richelle created is amazing. I never thought I would enjoy this so much. I loved that she stayed true to herself too. She's funny, smart and so caring. I also really love the fact that she's a bit socially awkward haha!
"My God, Sage. Your eyes. How have I never noticed them?"
That uncomfortable feeling was spreading over me again. "What about them?"
"The color," he breathed. "When you stand in the light. They're amazing... like molten gold. I could paint those..." He reached toward me but then pulled back. "They're beautiful. You're beautiful."
And her and Adrian? *SQUEALSSSSS* I LIKED him in the VA series, but I'm starting to LOVE him in this one! He's so handsome, funny and he really cares about Sydney. OH man, I need more of the two of them together! I SHIP THEM SO MUUCHHHHH!
The storyline of this book is an amazing start for this series! I'm always a little intimidated by long series, but Richelle managed to make this book very easy and quick to read. It has fast-paced, funny, serious and swoon-worthy moments. Throughout the whole book there were little mysteries here and there and I couldn't help being impressed about how everything came together in the end. I wasn't blown away, but I loved it anyway.
"Takes a lot of tries before you hit perfection." He paused to reconsider that. "Well, except for my parents. They got it on the first try." (Adrian)
Oh and the characters were all amazing! I was also very glad some characters of the VA series appeared in this one. But I'm most excited about Eddie! I loved him from the very start and I'm so glad he works with Sydney. I ship them as best friends :D I really hope to find out more about him!
So overall, I enjoyed this book a LOT! I'm so glad I ordered the second one immediately, because I definitely need it!!!
VA fans, if you haven't read the Bloodlines series, don't make the same mistake as me: JUST READ IT ALREADY!
"The greatest changes in history have come when people were able to shake off what others told them to do."