Every Wednesday I share a recent release I'm excited to read. If you want to check out the previous ones, click

here

. These are all books I'm adding to my growing pile of tbr-books ;)
Never Never, Part Two by C. Hoover & T. Fisher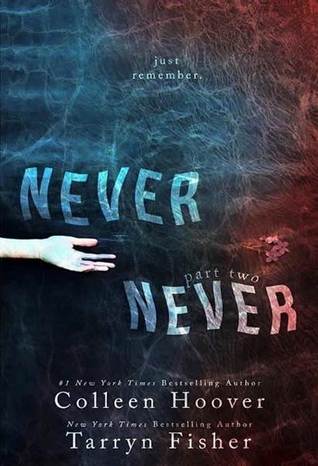 Series: Never Never #2
Genre: YA/NA, contemporary, mystery, romance
Release date: May 17th 2015
Publisher: HooverInk
Length: 145 pages
This book doesn't have a blurb, but in case you read Part One, you don't need it.

You just know you'll read this part without hesitation!
If you haven't read Part One, read the blurb here:
"How odd to be made of flesh, balanced on bone, and filled with a soul you've never met."

Charlize Wynwood and Silas Nash have been best friends since they could walk. They've been in love since the age of fourteen.
But as of this morning...they are complete strangers.
Their first kiss, their first fight, the moment they fell in love...every memory has vanished.
"I don't care what our real first kiss was," he says. "That's the one I want to remember."

Charlize and Silas must work together to uncover the truth about what happened to them and why. But the more they learn about the couple they used to be...the more they question why they were ever together to begin with.
"I want to remember what it feels like to love someone like that. And not just anyone. I want to know what it feels like to love Charlie."
Illusionarium by Heather Dixon
Genre: YA, fantasy
Release date: May 19th 2015
Publisher: Greenwillow
Length: 368 pages
What if the world holds more dangers—and more wonders—than we have ever known? And what if there is more than one world? From Heather Dixon, author of the acclaimed Entwined, comes a brilliantly conceived adventure that sweeps us from the inner workings of our souls to the far reaches of our imaginations.

Jonathan is perfectly ordinary. But then—as every good adventure begins—the king swoops into port, and Jonathan and his father are enlisted to find the cure to a deadly plague. Jonathan discovers that he's a prodigy at working with a new chemical called fantillium, which creates shared hallucinations—or illusions. And just like that, Jonathan is knocked off his path. Through richly developed parallel worlds, vivid action, a healthy dose of humor, and gorgeous writing, Heather Dixon spins a story that calls to mind The Night Circus and Pixar movies, but is wholly its own.