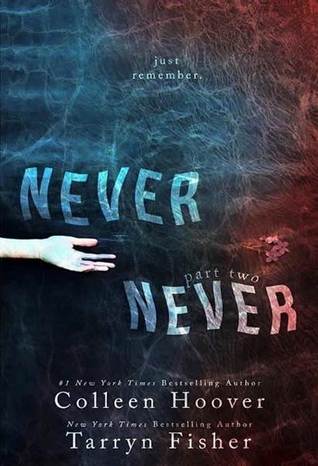 Series
: Never Never #2
Genre: YA/NA, romance, suspense
Release date: May 17th, 2015

"Never forget that I was your first real kiss. Never forget that you'll be my last.
And never stop loving me between all of them.
Never stop, Charlie.
Never forget."

Silas races against time as more truths unravel, while others twist tighter together. And now, the stakes are higher as Silas' control slips and others begin to point fingers. Charlie is in trouble and he must be the one to bridge the chasm between their past and their present. Because somewhere between I love yous and Never Nevers and Never Agains, a truth they can't imagine, beckons to be found.

"So what's the deal with us?" she asks. "Are we like... in love and shit?"
I laugh out loud for the first time since yesterday morning? "Yeah," I say, still laughing. "Apparently I've been in love and shit with you for eighteen years now."

This second part picks right were we left after the thrilling cliffhanger in P1. And I was very pleased about the many Silas chapters in this part! But I was surprised about Charlie's chapters. This book is even MORE mysterious as P1, even though we found out a good amount of things about Charlie & Siles through one of the characters.
Like in Part One I loved both writing styles mixed into one book, although Charlie was a lot more different. Still as fierce, but just... different... I can't point out how exactly though. But it made me like her even more anyway.
I cannot wait for P3, because I have SO many questions left. The cliffhanger (yes, again) was amazingly torturous !!
"If it were possible to hear a smile, hers would be a love song."