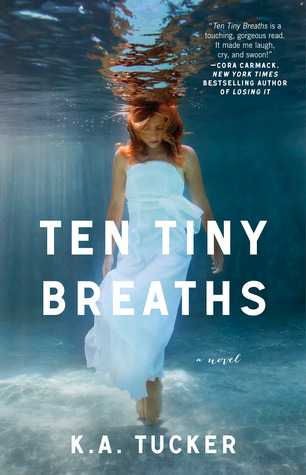 Series
: Ten Tiny Breaths #1
Genre
: NA, romance, drama, contemporary
Release date:
September 24th 2015
Length
: 288 pages
Kacey Cleary's whole life imploded four years ago in a drunk-driving accident. Now she's working hard to bury the pieces left behind—all but one. Her little sister, Livie. Kacey can swallow the constant disapproval from her born-again aunt Darla over her self-destructive lifestyle; she can stop herself from going kick-boxer crazy on Uncle Raymond when he loses the girls' college funds at a blackjack table. She just needs to keep it together until Livie is no longer a minor, and then they can get the hell out of Grand Rapids, Michigan. But when Uncle Raymond slides into bed next to Livie one night, Kacey decides it's time to run. Armed with two bus tickets and dreams of living near the coast, Kacey and Livie start their new lives in a Miami apartment complex, complete with a grumpy landlord, a pervert upstairs, and a neighbor with a stage name perfectly matched to her chosen "profession." But Kacey's not worried. She can handle all of them. What she can't handle is Trent Emerson in apartment 1D. Kacey doesn't want to feel. She doesn't. It's safer that way. For everyone. But sexy Trent finds a way into her numb heart, reigniting her ability to love again. She starts to believe that maybe she can leave the past where it belongs and start over. Maybe she's not beyond repair. But Kacey isn't the only one who's broken. Seemingly perfect Trent has an unforgiveable past of his own; one that, when discovered, will shatter Kacey's newly constructed life and send her back into suffocating darkness.
For some reason, I expected to be blown away with this book. And sadly it didn't happen. It was partly my fault though. I expected way too much from it.
"Just breathe. Ten tiny breaths … Seize them. Feel them. Love them."
It had a slow start and I couldn't connect with the main character, Kacey. She was so bitchy and full of anger. She was also way younger than I thought! She acted little kid, but acted like she wanted to punch basically everyone. I hated that. Her sister was nicer, but she also didn't acted like she should for age. I seriously thought she was ten or so! After realizing she was closer to 16, I felt kind of weirded out...
Trent was very intriguing in the beginning. But after a while he started to get a little boring. He's nice and all, but just... average. He had nothing special. He also felt a little predicable. Of course he was sexy and all that, but still... like I said, nothing special.
"I don't hate you. I could never hate you. Give me your heart, Kacey. I'll take everything that comes with it."
The plot was slow and I kept waiting for the big moment. I felt less and less excited about the book and I couldn't wait for it to end. And then - idiot that I am - I read the blurb of the prequella and I just ruined it even more for myself. I knew the biggest spoiler (although I already had my suspicions) so the rest of the book felt boring and I wanted to roll my eyes constantly.
The only parts I
really
enjoyed were the ones with Storm. Because she's amazing and she's the perfect combination of sassy and badass.
Because I spoiled myself I will never know what I would actually have thought about this book. It's a pity, because now I'm also not motivated at all to continue with this series... I must say, the writing was good! KA Tucker did an amazing job. But yeah... the plot would have needed a bit more attention though...
The book has a gorgeous cover by the way!