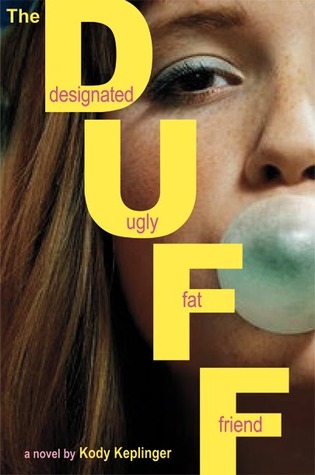 Genre: YA/NA, romance, contemporary, chick-lit
Series: stand-alone
Release date: September 7th 2010
Beauty really does lie in the eye of the beholder...
Seventeen-year-old Bianca Piper is smart, cynical, loyal - and well aware that she's not the hot one in her group of friends. But when high-school jock and all round moron Wesley Rush tells her she's a DUFF - a Designated, Ugly Fat Friend - Bianca does not the see funny side. She may not be a beauty but she'd never stoop so low as to go anywhere near the likes of Wesley ... Or would she? Bianca is about to find out that attraction defies looks and that sometimes your sworn enemies can become your best friends ... With a wry and tell-it-like-it-is voice, The Duff is a witty and poignant story of a teenager struggling with the rules of high school attraction, along with the breaking down of her relationships with family and friends. It is a novel about what it means to be sexy, in a world where we feel we have to be perfect!
*ARC received through Netgalley in exchange for an honest review*
I must say, although I was very excited about receiving an ARC of this book, I was still a bit unsure about the plot. I saw the trailer of the movie based on this book and well… I don't know… I'll get to the trailer later, let me first shower this book with compliments :D
"You can lie to yourself if you want, but reality is going to catch up with you. I'll be waiting when it does… whether you like it or not."
When I started reading I immediately like Bianca. She's funny, sarcastic and has a few flaws, but I felt an immediate and easy connection between her and me. And that's weird, because I'm not like her at all. She's just easy to connect with and I loved that.
"Wesley Rush doesn't chase girls. They chase him."
And then Wesley freaking Rush appears and I just fall in love… He's a total womanizer who has some serious issues concerning his lifestyle, but even with all that, I completely fell in love with him. He's handsome, funny, intelligent and makes you swoon in the most unexpected ways!

"The winter sky has already turned black, but I could still see Wesley's gray eyes in the darkness. They were exactly the color of the sky before a thunderstorm."
The plot of this book is very different from what I thought. It's sexy and funny, but it was also serious at some points. The book had more depth then what I thought after reading the blurb. It's a story about family, friendship and loving yourself and others. The writing was also very nice. It wasn't strong through the whole book, because it had some weaker points (his is why I'm giving it 4.5 stars), but it was still very easy and quick to read!
I really recommend this book and I seriously think this book is underrated! I want more of Wesley and Bianca!! The book ended way too soon! :D

"He was my perfect match. Unfortunately he wasn't aware of this fact."

Now a little something about the trailer of the movie based on this book: WHAT THE HELL IS THAT PIECE OF CRAP????!!!

Based on what they show in the trailer it's the COMPLETELY different from the book. I think only the character's names and the term "DUFF" will match the book… I don't think I'll ever watch it. So PLEASE, do NOT judge this book by the trailer of the movie! It is SO much better!