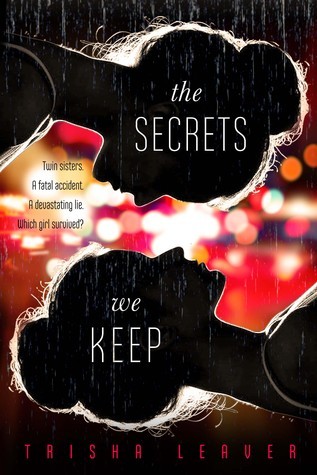 Series: standalone
Genre: YA, death, romance, contemporary
Release date: April 28th, 2015
Length: 304 pages
A girl takes over her twin sister's identity in this emotionally charged page-turner about the complicated bond between sisters.
Ella and Maddy Lawton are identical twins. Ella has spent her high school years living in popular Maddy's shadows, but she has never been envious of Maddy. In fact, she's chosen the quiet, safe confines of her sketchbook over the constant battle for attention that has defined Maddy's world.
When—after a heated argument—Maddy and Ella get into a tragic accident that leaves her sister dead, Ella wakes up in the hospital surrounded by loved ones who believe she is Maddy. Feeling responsible for Maddy's death and everyone's grief, Ella makes a split-second decision to pretend to be Maddy. Soon, Ella realizes that Maddy's life was full of secrets. Caught in a web of lies, Ella is faced with two options—confess her deception or live her sister's life.
Although I can't explain why, but anything with twin sisters/brothers fascinate me. And of course I was super intrigued by this book. In the end, I enjoyed it, but it wasn't what I expected.
"Maddy was my sister, my twin sister, and I'll do anything for her. Including losing myself."
Ella sees herself as a weak person, consumed by insecurity towards other people. And yet, after the accident her actions and decisions shows she's so brave. At first, I couldn't understand why she would keep pretending to be her sister. But I understood. She lost a part of her and she feels guilty towards her sister. I could relate to Ella a lot! Oh and Josh... don't even let me start with him. I just loved him so much!!
"I'm sorry," I whispered before I laid the phone on the floor beside her and left the room. Waking her now was pointless. I wasn't ready to deal with her tears.
But the whole 'secret thing' with Maddy was... boring. I expected something scandalous/shocking or at least something a bit more bigger than what it turned out to be. But that's the only thing that disappointed me, because overall this book is beautifully written. It's full of honest thoughts and it definitely felt real. The ending was predictable, yet so heartwarming/heartbreaking. The way she tried to wrap herself around her new "lifestyle" was ... well, I don't even have a word for it. I just loved how it turned out.
"…this was our secret… a secrets sister would keep"
I definitely recommend this to people who like to read honest and "raw" stories with a strong main character and a romance.
By the way, the cover is just gorgeous!