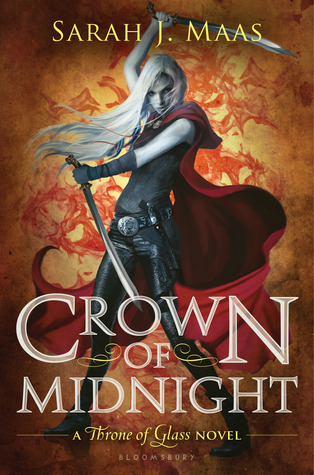 Series
: Throne of Glass #2
Genre
: YA, romance, magic, mystery
Release date
: August 23rd 2013
Length
: 418 pages
"A line that should never be crossed is about to be breached.
It puts this entire castle in jeopardy—and the life of your friend."
From the throne of glass rules a king with a fist of iron and a soul as black as pitch. Assassin Celaena Sardothien won a brutal contest to become his Champion. Yet Celaena is far from loyal to the crown. She hides her secret vigilantly; she knows that the man she serves is bent on evil.
Keeping up the deadly charade becomes increasingly difficult when Celaena realizes she is not the only one seeking justice. As she tries to untangle the mysteries buried deep within the glass castle, her closest relationships suffer. It seems no one is above questioning her allegiances—not the Crown Prince Dorian; not Chaol, the Captain of the Guard; not even her best friend, Nehemia, a foreign princess with a rebel heart.
Then one terrible night, the secrets they have all been keeping lead to an unspeakable tragedy. As Celaena's world shatters, she will be forced to give up the very thing most precious to her and decide once and for all where her true loyalties lie... and whom she is ultimately willing to fight for.
"Everyone sounded the same when they died."
I finished reading this a week ago and I'm still not over it. Holy shit this was SO GOOD. And here I thought 'oh this is just a pleasant and relaxed read'. Yeah RIGHT. This book is epic!
"I worry because I care. Gods help me, I know I shouldn't, but I do. So I will always tell you to be careful, because I will always care what happens."
This sequel is waaaaaay better than the first book! If you loved the first one, you're going to love this one even more. I did, at least! Oh man, this book is a serious roller coaster of feels and 'what-the-hell' moments. I devoured this book completely.
"Why are you crying?"
"Because," she whispered, her voice shaking, "you remind me of what the world ought to be. What the world can be."
The plot of this book is brilliant and perfect and amazing. I'm not going into it in details, because it's just impossible. So much happened and the plot twists just kept coming and coming and coming... and .... oh man... I can't... there was that one plot twist that almost KILLED ME. When I think about it again, I get tears in my eyes. I JUST CAN'T. I seriously felt my heart break into a million little pieces. It changed the whole book for me and made it better and worse at the same time. I'm STILL not over it.... *cries*
Celaena is now the King's Champion. And she's even more badass as usual. I think she became my top #1 fav character all time. . Celaena's been through so much and yet she's still standing and fighting. I don't know how this happened and how the hell Sarah J. Maas managed to do this, but I've grown so attached to Celaena! She developed her perfectly! She has some dark moments during this book and multiple times my heart broke for her.
"He should step back, put more distance between them. But instead, he found himself reaching for her, a hand slipping around her waist and the other twining itself through her hair as he held her tightly to him."
Now, let me clarify something about the guys. After finishing ToG I was so conflicted about Chaol and Dorian. I loved both and I couldn't pick a favorite. Well, that changed big time. I'm 1000000000% TEAM CHAOLEANA. Saying I have a crush on Chaol is a HUGE understatement. I still like Dorian, but my OTP is definitely Chaoleana. I just can't get enough of them!!!
"He wouldn't let his servants change the sheets on his bed because they still smelled like her, because he went to sleep dreaming that she was still lying beside him."
Oh right, and because obviously Sarah didn't think we suffered enough while reading the book... there's also that
tortuous
ending...
UGH. It's not really a cliffhanger, but it feels that way because it's like something new is about to start. I don't know if this makes sense, but that ending made me want to read the next book, Heir Of Fire, immediately.... only... I'm (still) in such a "fragile" state after that ending, so that's why I have not yet found the courage to pick it up. I need some time, because I'm both scared and excited about what could happen in the third book (mostly excited though).

"I can't tell if I should be ashamed of wanting to hold you on this day, or grateful that, despite what happened before now, it somehow brought me to you."
Anyway, this book was brilliant. The writing is amazing, the character development is definitely on point and the badass fights are perfect. What would you want more, right? If you have not yet continued with this series, you should. I feel like with every book I read it gets better and better. Sarah J. Maas, you are definitely in my top 5 favorite authors of all time!!
"It was hard to care, she realized as she started the trek back to the castle. Incredibly hard to care, when you didn't have anyone left to care about."